Herbarium, Graduate School of Science, Hokkaido Univ. (SAP)
>> SAP specimen database search engine
---
Outline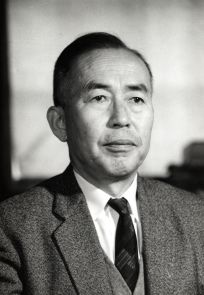 Dr. Y. Yamada (1900-1975)
The 1st Professor of the Phycological Lab., Faculty of Science, Hokkaido Univ.
SAP was established on 1931, the following year of the establishment of the Faculty of Science, Hokkaido University. The herbarium room (144m2), presently is used for a part of an exhibition room of the Hokkaido University Museum, was on the 1st floor of the building. A few years later the herbarium room was partly reconstructed as a mezzanine structure to store increasing amounts of collections. Though the building of the Faculty of Science was remodeled to the University Museum in 1999, there were no suitable storage facilities for SAP specimens at that time. Only especially important specimens, Type collections and Okamura collections, were kept in the Museum. Many others were temporarily stored in some prefabricated buildings separately. In 2004, all the herbarium specimens deposited in SAPA and SAPS were transferred from the Faculty of Agriculture to the Museum. The marine algal specimens in SAPA, including the type specimens of K. Miyabe's Laminaria species, were combined with SAP specimens and stored in two rooms on the 3rd floor of the Museum (116m2). Thus most of algal specimens in SAP and SAPA, except for liquid preserved ones, have been stored in the Museum. This herbarium is now under joint management of the Faculty of Science and the University Museum.
This herbarium mainly houses marine benthic algal specimens studied by the researchers concerning the Phycological Lab. of the Faculty of Science. It consists of over 120,000 dried specimens and near 20,000 liquid preserved ones not only collected from Japanese waters but worldwide origin, especially from the north-western Pacific (e.g. Aleutian Islands, Kamchatka Peninsula, Kuril Islands, Sakhalin Island, Korean Peninsula, Taiwan Island, Vietnam, Malaysia, Philippines and Micronesia). It is registered officially as the herbarium abbreviation SAP with Index Herbariorum internationally.
SAP houses almost all marine benthic algal type specimens described by Japanese researchers. It is one of the largest marine benthic algal herbarium in the world.
Peculiar Collections
Type specimens


Champia bifida Okam., holotype specimen.

About 350 type specimens from 1931 to present day (including gifts from other hebaria).
Okamura collection
All the 15,000 specimens collected from 1890 to 1935 by Dr. K. Okamura, who built up the basis of phycology in Japan. Including 151 type specimens for the new taxa described in Icones of Japanese Algae etc.
Yendo collection
Marine algal specimens collected by Dr. K. Yendo, who was a contemporary of Dr. Okamura and Dr. Miyabe. (permanent loan from TI )
Japanese domestic specimens
About 100,000 numbered and 20,000 unnumbered (for exchange, exhibition or unmounted) specimens collected from all over Japan since 1930. Many of them are still used for research and cited in scientific publications by domestic and foreign researchers. They also important to study geographical distributions of species. Some of them are used as teaching materials for the undergraduate classes.
Exotica
Specimens from the South Sea Islands, from North America and from Europe collected by Prof. Y. Yamada from 1930 to 1960 and exchanged ones; North American specimens collected by Prof. M. Kurogi in 1976; Atlantic specimens collected by Prof. Y. Yoshida on 1973; Specimens from South Eastern Asia collected by Prof. M. Masuda from 1992 to 1999, etc. Totally about 10,000 specimens.
Exsiccatae
The following exsiccatae are housed separately from the collections mentioned above.

Algae Danmonienses. Vol. 1 - 5.
Wyatt, M. (1833 - 1840)
Phycotheca Boreali-Americana. Fascicle I - XLV, A - E.
Collins, F.S., Holden, I. & Setchell, W.A. (1895-1919)
Algae Japonicae Exsiccatae. Fascicle 1 & 2.
Okamura, K. (1899, 1903)
The Marine Benthic Algae of Seto Inland Sea, Japan. Vol. 1 - 6.
Enomoto, S., Yoshida, T., Masuda, M. & Kawai, H. (1996)


Note: The specimens in exsiccata published by National Science Museum, Tokyo are numbered and deposited as general domestic SAP collection.
---
SAP specimen database has been created by:
Tadao Yoshida, Michio Masuda, Kazuhiro Kogame, Tsuyoshi Abe, Yukimasa Yamagishi, Hiroki Ebata, Masaya Tani, Satoshi Shimada and Aki Kato.
Designed and programmed by T. Abe.
---
Specimen databases of the Hokkaido University Museum
Phycological Lab., Graduate School of Science, Hokkaido Univ.